Fee Survey™
Features & Benefits
The signing of the Financial Regulatory Reform Bill on July 21, 2010 brought significant changes affecting the appraisal community. Title XIV addresses appraisal fees:
CUSTOMARY AND REASONABLE FEES
Lenders and their agents shall compensate fee appraisers at a rate that is customary and reasonable for appraisal services performed in the market area of the property being appraised. Evidence for such fees may be established by objective third-party information, such as 1) government fee schedules, 2) academic studies, and 3) indepen-dent private sector surveys. Fee studies shall exclude assignments ordered by known appraisal management companies.
Lenders and AMCs are equally responsible for the payment of Customary and Reasonable fees. Our Fee Survey manager offers unique access to all three methods allowed for in the law. We have overlaid the VA fee schedule, we make academic studies available, and we have collected fee survey data from appraisers displayed as mean, median and mode for each product, county by county.
Within our grid we also display general population and appraiser population per county to assist with identifying supply and demand.
Appraisers may register and contribute their fees with an account. There is no anonymously contributed data.
Fee survey data can be exported in any number of formats- CSV, Excel or PDF and time stamped and distributed to your clients or partners. Clearbox provides access to data for all three methods supporting our premise that access to better information leads to better decisions.
Example of Survey Manager below: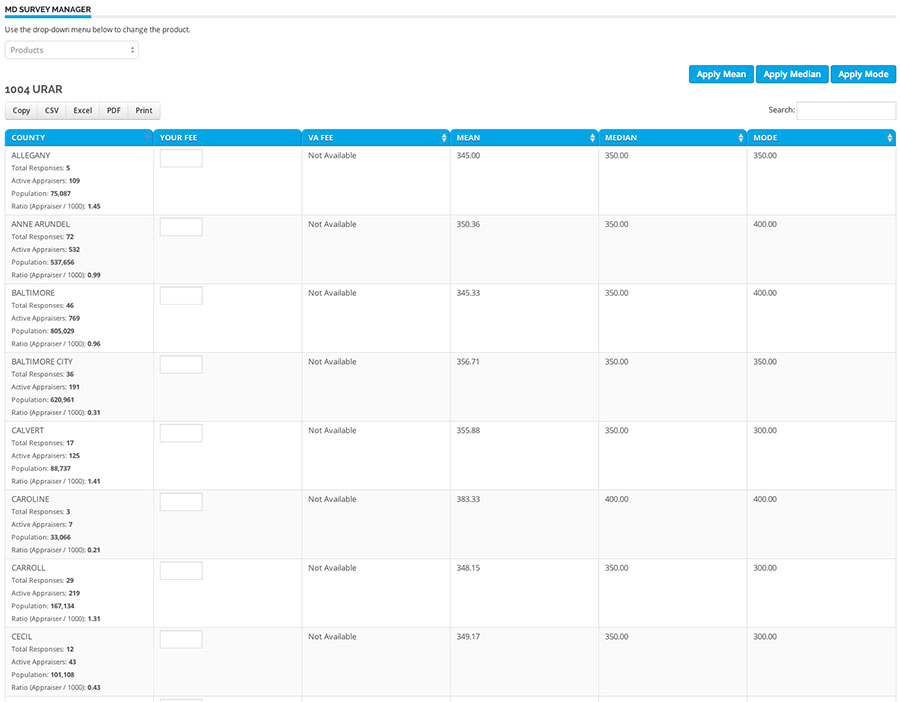 About Us
Clearbox®,LLC was founded to address the complex landscape of compliant processes and data management. Better information and transparent processes promote integrity. The Clearbox® suite of products offers solutions to all stakeholders- Appraisers, Real Estate Agents and Brokers, Lenders, Appraisal Management Companies and Regulators.
+ More
Contact Info
1405 Wesley Drive
Salisbury, MD 21801
help@clearbox.com
Phone: 786-505-4519